Tank Automation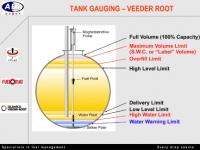 Tank gauging involves installing an electronic probe into the fuel storage tank. This enables effective wet-stock control, leak detection, water contamination detection and environmental monitoring, efficient procurement and improved logistics management.
Approximately one million tanks around the world are currently being monitored using this technology. Veeder Root has a full range of hardware solutions for fuel monitoring at retail, commercial and industrial fuelling facilities.
Detailed fuel inventory information is graphically displayed and fuel deliveries are verified. A precision tank test can be instigated on demand or programmed to run at preset intervals.
Veeder Root technology provides temperature compensation and accurate fuel temperature readings. The tank gauges have various sensors for fuel, vapour and water detection.
Veeder Root technology offers pressure line leak detection where submersible pumps are in use. Veeder Root interfaces seamlessly to almost all pump controllers. Remote diagnostics is a feature enabling auto dial out for real time alarm notification and site management.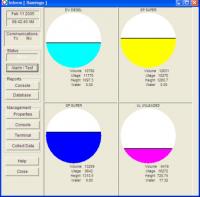 Inform software is a communication software package with real time data, leak detection and diagnostic information.
Through variance analysis, elements of wet stock loss can be identified. The more advanced products are able to monitor up to 16 tanks and 64 sensors.
Benefits
Accurate stock records readily available.
No need for dipsticks or manual measurement.
Accurate verification of deliveries.
Real time ability to continuously manage fuel inventory levels.
Improved distribution planning.
Enables management of consignment stock.
Correct usage avoids run-outs and minimizes overstocking.
Low cost technology, with user friendly inventory and delivery management systems.
Easy-to-use touch screen display.
Peace of mind due to programmable shut down if a line leak is detected.
A reduction in the risk of financial penalties due to environmental contamination.
Site monitoring systems are fully modular and so can expand as site or customer needs dictate.
Business Intelligence monitoring services offered as part of system solution.
The more advanced products can automatically reconcile sales against deliveries and inventory, and identify areas where losses may be suffered through deliveries or temperature variances.
 
Contact Us
Tel: +27 (0)86 126 2269
Fax: +27 (0)11 465 9674
Cell: 27(0)82 200 5822
P.O Box 633
Witkoppen
2068