Onboard Computers
Fleet Manager (Active or Passive Tracking)
The Fleet Manager (FM) is an on-board computer based on the stable and reliable platform of the FM series. The FM offers extensive driver and vehicle management, but has an additional internal GPS receiver and GSM modem.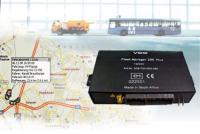 The GPS receiver allows the recording of GPS Position information, which allows you to know exactly where your driver has been. With the GSM modem, you can actively or passively track your vehicles, and request their position real-time.
Data can be uploaded and downloaded remotely to and from your FM with the GSM Modem, ensuring that the downloading of data does not interfere with the daily activities of the drivers. Communication and safety is also enhanced – with optional hands free kit, the FM can accept incoming calls, ensuring the driver's focus stays on the road.
If you are concerned about security, the FM can be provided with battery backup, allowing the unit to keep on communicating with the Fleet Manager Software, even though the unit's power has been cut.
VEHICLE AND DRIVER MANAGEMENT
Trip Data Recording
For every journey the vehicle takes, the following information is recorded:
Date and Time,
Driver Name & ID, Vehicle ID.
Distance or Hours,
Speed or Hours,
Engine Speed (RPM),
Trip started / ended time,
Trip depart / arrive time,
Driver Name & ID, Vehicle ID.
Driving Violations
The following standard violations are recorded:
Over Speeding,
Over Revving,
Green Band Driving (low and high),
Harsh Braking,
Harsh Acceleration,
Excessive Idling
Overtime Driving
Customized Events
You can also define customized events, such as:
Driver door opening,
Rear door opening
No-go zone entered,
Hazard lights activated,
Refrigerator temperature exceeded.
Second-by-Second (Taco) Data
The FM records the status of all inputs (e.g. speed, RPM, brake lights) every second, which provides valuable in-depth information for accident analysis.
Servicing and Licensing
Reminders can be set when your vehicle's next service is due or when your vehicle / driver's license expires.
Driver Identification & Immobilization
A driver tag can be used to identify the driver, or a default driver can be assigned to a vehicle. The FM200 can also be installed with an immobilizer function – the vehicle will only start if an authorized driver inserts his driver tag.
Driver Scoring
Allows you to define parameters by which drivers are scored. This feature allows you to compare drivers accurately using a standard set of measurable that are independent of the type of vehicle and its uses and limitations. Drivers are measured by which degree they have complied with the standards of good driving set for the vehicles they drive. The standard set of measurable comprises of the following six violations:
Over speeding
Over revving
Harsh braking
Harsh acceleration
Out of green band driving
Excessive idle
Each score reflects how well the driver scored as a percentage with 100% being a perfect score.
COMMUNICATION
Downloading/uploading to and from vehicle
The GSM/GPRS Modem can be used to download and upload data from and to the FM. This can be done remotely with out the need for the vehicle to be in the yard. The GSM/GPRS Modem also enables the FM to be actively tracked by the Fleet Manager Software
Voice Calls
The FM allows incoming voice calls where a hands free kit (Optional Extra) is connected to the on-board computer (OBC). This allows the drivers to safely communicate, while still allowing them to focus on the road. If a keypad is installed with the hands free kit, it allows the driver to make calls to 4 defined numbers, thereby allowing full communication with your driver.
ROUTE SCHEDULING / ROUTE PLANNING
Routes can be planned by entering stops, the planned time of start and the planned duration of each stop. This can serve as daily job activity sheets for your drivers.
Use basic Route Planning functionality to easily plan and manage your drivers' routes. You can enter either planned stops or create and re-use route templates. The simple route planner automatically calculates the estimated distance between the two planned stops and the Estimated Time of Arrival (ETA).
After planning a trip, use the Route Plan report to print out trip sheets for your drivers. At the end of the day, you can download trip information using the Route Planner to print out Variance reports. These reports indicate missed stops, unplanned stops, excess distance driver and stops that were too short or too long.
The Route Plan report creates a check list that the driver of a vehicle can use to manually enter whether a stop was missed, unplanned, late, etc. This serves as a manual entry system that can later be compared to the second report.
Delivery windows would need to be taken into account when planning schedules.
LOCATION MANAGEMENT
Information is recorded with every GPS point, such as Vehicle and Driver ID, Date and time, Latitude and Longitude, Altitude, Heading, Velocity, Number of Satellite etc. Locations can be added showing customer, supplier, no go zones or any desired locations
Reports show:
where your drivers and vehicles are spending their time
how they drove to locations, how long they stayed there
which locations were visited, how often and by whom
planned vs. actual trips & variations
Features include:
show only the visits you are interested in, filter visits less or more than x minutes
use GIS (map) data to look up names of undefined locations
define location as a point with radius (circle), rectangle, or polygon
ACTIVE TRACKING
By using the FM, the internal GPS receiver and GSM/GPRS modem allows for active tracking.  The Fleet Manager is able to see exactly where his vehicles are in real-time.  The FM uses either the GSM Short Message Service (SMS) or the GPRS connection to deliver the real-time information to you.
With Active Tracking, you can track where your vehicles are at the moment, locate a vehicle closest to a customer location or view the trail, as the vehicle moves. Even if you do not request the position of a vehicle, the vehicle's location positions are stored in the on-board computer and can be used for historical (passive) tracking.
Contact Us
Tel: +27 (0)86 126 2269
Fax: +27 (0)11 465 9674
Cell: 27(0)82 200 5822
P.O Box 633
Witkoppen
2068